Buy Now | Conference Table Switch Box → Edge Mount. 2 AC + 2RJ45 #1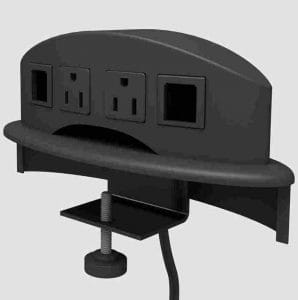 conference table switch box →  Does not Require Holes or Table Cutouts for Installation / Custom Made available ¡Super fast delivery! – BLACK COLOR.
power outlet →  The Yolkvisual YV-802B On-Surface is so smooth… it's positively seamless. With a modular faceplate construction and a simple block profile, YV-802B is charged with clean, modern energy.
YV-802B mounts easily to the edge of your work surface, and is perfect for charging your desktop devices.
Looking for a custom made configuration? YV-802B is customizable to meet your connectivity needs! 2 AC Fixed + 2 open ports for Data/Voice Snap in connectors outlet.
For people who look at the little details that generate great impact!.
Extend power source within your reach, no more crawling under desk to find power strip on floor.
It's easy way to clear up your desk, and get all these cables in line.
With this on-surface connectivity box you will have all your power outlets, usb, hdmi and other av connectivity available at the palm of your hands power outlet.
Applications.
Conference room.
Office.
Home desk.
Hotels.
Showrooms.
Schools.
More.
conference table switch box.
Part n: YV-802B
Attaches to a variety of table or desk thicknesses.
Quick and easy installation, does.
not require table or desk cut-outs.
2 Power and 2 Phone/Data outlets. (By default)
6ft 15 Amp cord.
lamp mount can be easily removed.
and installed somewhere else.
Voice/Data Adapter Kits to accept voice.
data couplers and jack included.
Available in Black Color.
On-surface Desktop power outlet Edge Mount.
conference table switch box.
Call US  +1 (305) 909-0381 &  Email: sales@yolkvisual.com