Meeting Owl 360 Degree Video Conference Camera with Automatic Speaker Focus.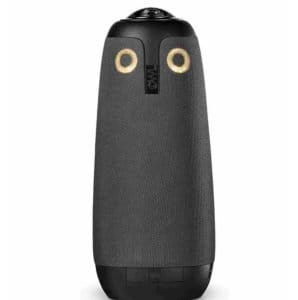 meeting owl ⇨ conference cam Meeting Owl – The MTW100 Meeeting.
Owl is a super-intuitive 360 degree all-in-one.
Video conferencing hardware system from Owl Labs.
This intelligent conference room camera features an amazing 360.
Degree lens that gives users the ability to share a view of their entire room to remote.
Participants, while at the same time automatically focusing on the.
Most recent speaker – Conference cam Meeting Owl.
Additionally this all-in-one solution boasts 8 omnidirectional.
Beamforming microphones and a 360 speaker.
To ensure that every participant in the meeting is heard.
The Meeting Owl is a USB device that works with all major web-based.
Video conferencing platforms to include, Skype, Google
Hangouts, Zoom, Slack, GoTo Meeting, Blue Jeans and more.
Conference cam Meeting Owl.
You don't have to download or install a thing. Just plug it in to.
Your in-room computer or laptop and you're good to go.
On the front of the unit are two "owl eyes" that come to life when the device is active.
Visually queuing users that the meeting has started – Conference cam Meeting Owl.
360 Degree Camera: Single Lens Soltution
Full Panoramic View
High Dynamic-Range Lens:
Prevents silhouetting, superior low-light performance
Microphone / Speakers: 360 degree wideband audio, 12′ radius range
Acoustic echo cancellation
Sampling Rate: 48kHz
8 Microphone Array: 360 degree sound capture / 360 degree speaker
Supported Video Conference Systems: Works with most.
Web-based video conferencing applications: Skype.
Slack, GoTo Meeting, Google Hangouts
Plug and Play USB Connectivity
Processor: Qualcomm Snapdragon 410
System Requirements: USB UVC 1.1, UAC 1 compatible.
Windows 7 or higher, Mac 10.8 or higher.
Linux 2.6.26 or higher, Chrome OS USB 2.0 port
Dimensions (H,W,D): 10.75″ x 4.4″ x 4.4″
Weight: 2.65lbs
Included Accessories: 6.5′ Micro USB Cable, Power Adapter with Plug
Warranty: 1 Year Limited Hardware (2 Year with registration).
Superior Audio & Video.
This little camera comes chalked full of amazing user friendly features.
in a small very stylish design, that will certainly wow your clients.
The Meeting Owl's single 360 degree lens provides a full view.
of the room without any moving parts or image stitching. meeting owl.
The 8-microphone array allows everyone within a 12 foot diameter to be heard.
Beamforming technology focuses the microphones on the person speaking.
And noise and echo cancellation ensure you.
hear the important things (and not the air conditioning).
Designed for collaboration and built for huddle rooms and medium.
Zized conference rooms, the Meeting Owl is optimized for groups of 2-8.
People working collaboratively with everyone within.
A 12 foot diameter from device for optimal performance.
Hands Free Play.
The MTW100 offers quality designed
software that optimizes the remote experience.
By using specially designed software the Meeting Owl.
is able to show your remote team members the entire room.
As well as the most recent participants.
Without having to do a thing – Conference cam Meeting.
The automatic speaker focus highlights the most recent in-room participants.
No need to rotate the laptop manually or use a remote.
Furthermore the intelligent attention system will dynamically highlight.
up to 3 in-room participants as well as a high dynamic-range lens.
which prevents silhouetting and provides superior low-light performance.
Whether it's reducing meeting chaos or simply making sure.
that all participants share their viewpoints, the Meeting meeting owl.
Owl is designed to make the conference call a more natural, fluid process.
Conference cam Meeting Owl 
Call US  +1 (305) 909-0381  &  Email: sales@yolkvisual.com