Buy Now | Mexico Power Outlet (Retractable) YV-MFMB – Yolkvisual – USA
mexico power outlet → Typical application are office furniture, conference tablets Desks.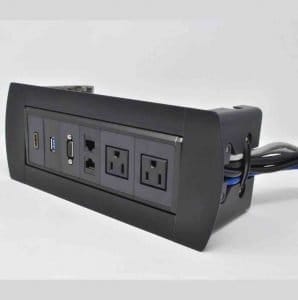 workstations and hotels room Yolkvisual YV-MFMB Conference table connectivity box.
offers Outlets for accessibility to electric power, internet, telephone.
mexico power USB charging and also other data and IC Connectors.
When Yolkvisual YV-MFMB Connectivity box is not in operation mode.
mexico power outlet.
Power Outlet Custom Made Available
Rotating to another side can hide all the outlets power outlet. 
This action can prevent water dipping and other micro.
Substance to drop in the outlets.
Moreover, outlook of Yolkvisual table box YV-MFMB.
is more elegant when not in operation mode.
Package Dimensions 15.2 x 8 x 5.8 inches.
Item Weight 2.95 pounds.
PART NUMBER: YV-MFMB.
Conference table connectivity box.
Conference table power mexico power outlet. 
→ Part n: YV-MFMB.
 Black color.
 Manual rotating – hide sockets when not in used.
 Elegant, affordable. With about 1.5m cables for easy connection.
 HDMI 4K, VGA, RJ45 CAT6, USB 3.0, AC.
 Special configuration upon request.
 Cutout size: 243mmx104mm.
 Panel size: 272mmx110mm.
 Depth of the box: 104mm.
 Corner: R6mm.
power outlet in mexico.
→ mexico power outlet.
Buy Conference Table Connectivity Box.
Interconnection Boxes Cable Connection Box.
Office Table Socket with Power Socket CAT 5E HDMI.
USB, VGA, XLR Yolkvisual.
Tabletop Multimedia Connectivity Box.
– 2 Ac Power U 2 Rj 45 + 2 HDMI.
1 USB No Cables Silver Prices |
Shop Deals Online | PriceCheck.
This connectivity box for
conference tables features a concealed.
in-table design that lets you connect a VGA.
Mini DisplayPort  HDMI or composite video source.
mexico power outlet
Call US +1 (305) 909-0381  &  Email: sales@yolkvisual.com