Conference Table HDMI / Conference Table Connectivity Box – HDMI, VGA ✓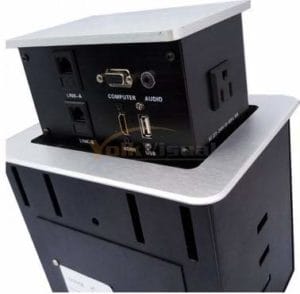 conference table hdmi → YV-H10 is series of pop up outlet with lifting pneumatic mechanism.
It uses pneumatic and trunk lock mechanism design, which makes it smoothly running up and down.
This electrical/multimedia pop up outlet comes with a three-side connectivity.
function to meet customers' needs. It can simultaneously provide.
hdmi network audio vga and power connectivity to more people  .
conference table hdmi  
creating a more productive office experience.
YV-H10 av boxes / pop up outlet boxes have a cool factor as they slowly.
raise out of the table when pressed however they also serve a purpose.
they make accessing your connections from both sides of the table very easy.
The concept when installed in the table is flush, when needed just press.
the top and the spring slowly lifts the unit up Conference table.
Material: Aluminum.
Color: Silver or Black.
Max. Voltage: 240V.
Max. Current: 13A.
Configuration: 1 HDMI + 1 VGA + 1USB + 2 RJ 45 + AC Power(US)2 + Audio 3.5mm.
CUT Out size: 7.50inch x 5.50inch.
Package: dimensions: 10.6 x 10.5 x 8.9 inches.
ASIN N: B07446RGNK.
conference table.
Call US +1 (305) 909-0381  &  Email: sales@yolkvisual.com